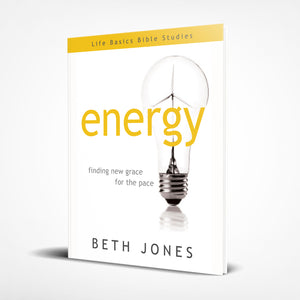 If you feel overloaded and stressed out, this book is for you. God wants to enlarge our capacity to handle the stress of daily living while giving us peace and comfort.
In this basic Bible study, you will find several sessions including:
Fried or Energized

The Energizer Bunny's Got Nothing on You

Recharging Battery Life

User Name and Password

Managing Your Energy
Great for individual study, neighborhood Bible study or small groups, this Life Basics Bible Study will renew and refresh you with plenty of real life examples and scriptures to chew on. Learn from the greatest book ever, the Bible. God's Word is interactive and Beth Jones brings it to life in this fresh new study.
(Formally known as: Grace For The Pace)