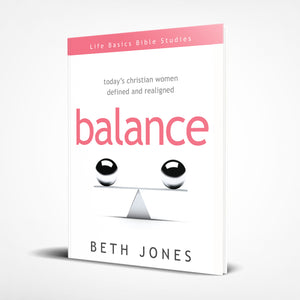 Are you looking for balance, a good marriage, godly kids and purpose in life? The Proverbs 31 woman found the satisfied life through her relationship with the Lord!
In this interactive study, you will learn how to be the modern, balanced Christian girl and the secrets of Proverbs 31. With sessions such as Desperate for Purpose and Desperate for Balance, you will find this book is great for individual study, small groups, or lunchtime study at work. Written in a contemporary style using practical illustrations, this book will bring wisdom and comfort to women everywhere.
Great for individual study, neighborhood Bible study or small groups, this Life Basics Bible Study will renew and refresh you with plenty of real life examples and scriptures to chew on. Learn from the greatest book ever, the Bible. God's Word is interactive and Beth Jones brings it to life in this fresh new study.
Topics Include:
Satisfaction Starts with Seeking God

Finding the Balance and Satisfied Life

Raising Balanced Kids

Serving Brings Satisfaction

Living on Purpose