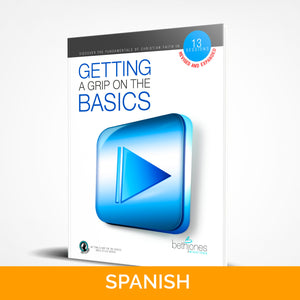 Note: cover varies from what is shown in picture. 
God wants every believer to be established in the basics! This classic workbook has helped thousands of Christians around the world get a grip on the basics of their faith. Written by Christian author Beth Jones, this is a perfect book for new, young and mature believers who want a refresher in their faith. This book is also excellent as church curriculum and for Bible study!
*Proceeds from this Spanish workbook help make it possible for us to give away all other language translations (24+) as free PDF downloads to people around the world. Thank you for supporting the basics!
"I have been a Christian since 1972 so I thought I knew the basics inside and out. While my knowledge level was good my revelation level was sorely lacking! What a blessing to revisit the basics and get a real grip on walking with God! I gained insight that has catapulted me to a whole new level with Christ.Thank you for providing us with such great teaching materials." – J.H.
This workbook covers:
How to Become a Christian
How to Be Sure You are a Christian
How to Develop Your Relationship with God
How to Talk to God
How to Hear From God
How to Obey God
How to Experience God's Love and Forgiveness
How to Be Filled with the Holy Spirit
How to Be Sure You are Filled with the Spirit
How to Grow and Develop Your Faith
How to Experience the Abundant life
How to Be an Overcomer
How to Serve God