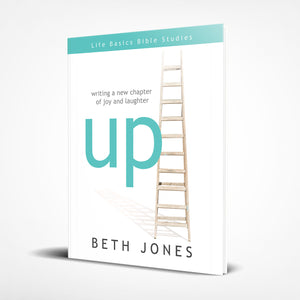 Got the blues? Bummed out? In the dumps? Feel isolated, overlooked, rejected? Does your situation feel hopeless? Want to run away? While your friends are reaching higher toward their dreams and desires, do you feel like you're reaching a new low? Ever felt like the sky of your life was gray? These are all signs and symptoms of depression and discouragement and we've all been there in one way or another.
Maybe you're tired of being down, sad or dependent on mood-enhancing drugs or herbs. Perhaps you wonder if God has real answers. The good news for each of us is that God cares and He has real answers to help us.
Great for individual study, neighborhood Bible study or small groups, this Life Basics Bible Study will renew and refresh you with plenty of real life examples and scriptures to chew on. Learn from the greatest book ever, the Bible. God's Word is interactive and Beth Jones brings it to life in this fresh new study.
Topics Include:
When the Sky is Not Blue

The Problem with Pity Party

The Things you Could Think if Only you Tried

Going to Your Happy Place

You've got to have Friends

Lift Up the Down
(Formally known as: What To Do When You Feel Blue?)