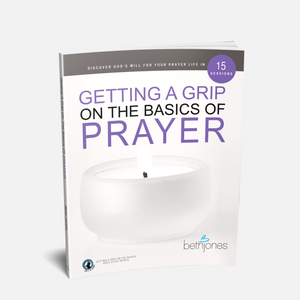 Getting A Grip On the Basics of Prayer is a practical, comprehensive, easy-to-follow Bible study on the basics of effective prayer. If you've never been taught the prayer basics, or if you've been discouraged by prayers that seemingly didn't get answered – or if you are a seasoned pray-er and just need a refresher, you will be inspired and fueled by faith to take your prayer life to the next level.
As you study God's Word in this fill-in-the-blank workbook, the Holy Spirit will help you connect the "prayer dots" to get results. Jesus wasn't kidding when He promised us the joy of answered prayer, "Most assuredly, I say to you, whatever you ask the Father in My name He will give you. Until now you have asked nothing in My name. Ask, and you will receive, that your joy may be full." (John 16:23-24)
Prayer doesn't have to be a dutiful or disappointing religious exercise; but rather, our prayer life can become the most exciting and fulfilling dialogue with the Lord. As we understand the basics of prayer and "pray by the rules" God has established in His Word, we can experience the supernatural power of God in our lives.
In this book, you will discover the: who, what, when, where, why and how of prayer!
WHAT: What is prayer and for what should we pray?
WHO: Who should pray and to Whom?
WHY: Why should we pray and what happens if we do not pray?
HOW: How do we "pray by the rules" to experience answers to prayer?
WHEN: When should we pray and does timing matter?
WHERE: Where should we pray and from what positional posture?
MORE: What should I do if my prayers aren't answered? Plus more!
When you complete this workbook, you will have a deeper relationship with the Lord through prayer. You will have a solid working knowledge of what the Bible says about prayer and you will be able to pray with humility, compassion, confidence, faith and boldness. Most importantly, you will know how to pray faith-filled prayers that get heavenly results!